On rare occasions, our support or development team members may require access tokens, credentials, or other sensitive data in order to complete a task or request submitted by your organization. In most cases, we avoid this by configuring delegate accounts, but not all services support that. In these cases, we use Quick Forget to share sensitive data securely.
Using Quick Forget
From a trusted device on a trusted internet connection, go to https://quickforget.com
Next, enter your secret (1), change the expiration to 1 view (2) or 72 hours (3), then click "Save my secret" (4)
A link will be generated to access your secret. Copy and paste this link in your reply to our support or development teams. NOTE: If you visit the link yourself, we will be unable to view the secret unless you change the number of views permitted.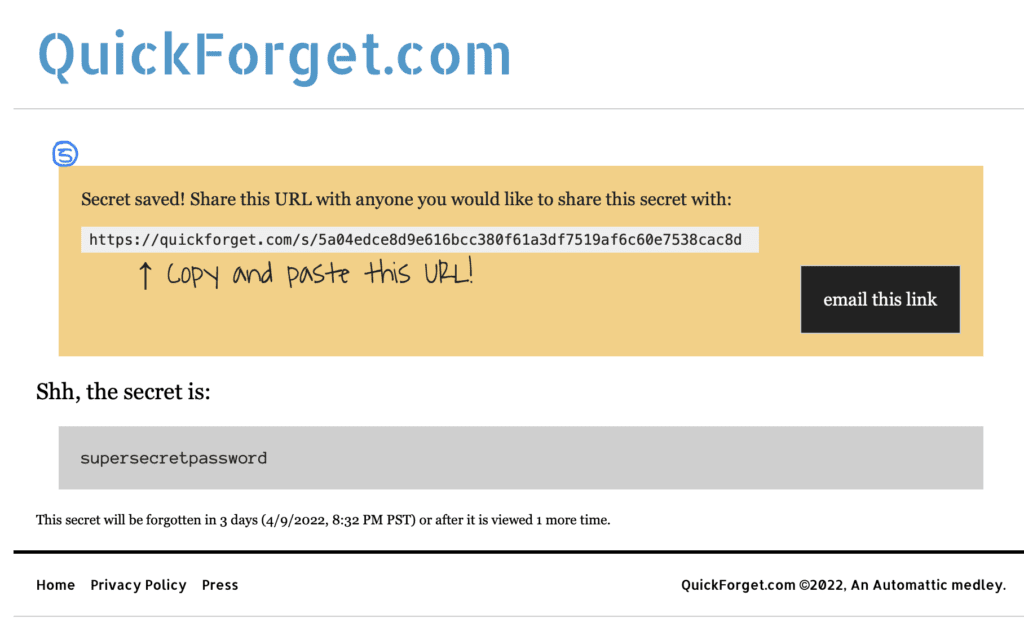 Important!
Please verify the authenticity of emails, text messages, or phone calls before continuing with this process. Emails from Smashstar Media should only come from one of three addresses:
support(at)smashstarmedia(dot)com

used for incident tracking, support tickets, and onboarding

managedwp(at)smashstarmedia(dot)com

used for system notifications and WordPress account alerts

info(at)smashstarmedia(dot)com

used for mailing lists and general inquiries
Text messages, phone calls, iMessages, and FaceTime calls can come from one of two accounts:
Phone, SMS, MMS – (508) 556-0444
iMessage, FaceTime – support(at)smashstarmedia(dot)com
To verify the authenticity of QuickForget.com, tap the padlock icon in your browser's address bar to view the certificate details. If the padlock is red, has a yellow warning symbol, or has a line through it, DO NOT ENTER ANY DATA.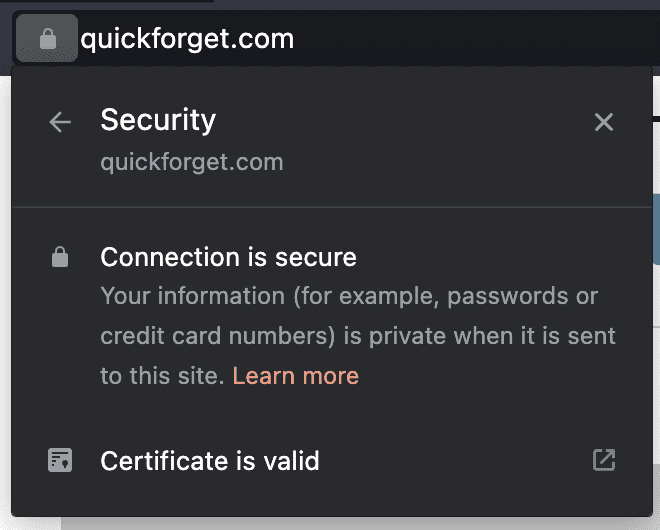 Pro Tip
If credentials are requested, try to keep data separated in the very rare chance that systems are compromised. For example, when our teams request initial access to Microsoft, you can send the username in the email reply, but use this tool to send the password.
Any Questions?
Drop us a line, support(at)smashstarmedia(dot)com or call us at (508) 556-0444