Updated
This article was updated to include a link to an open letter from Jared Spataro, Corporate Vice President for Microsoft 365, offering free/freemium licenses for their Teams software.
Here are some tips to make the most of your productivity software and stay connected with your team when working from home.
Today, many businesses are considering remote opportunities for their employees. Depending on the field and specifics of the job, this can potentially increase productivity. But keeping everyone connected is essential to meeting deadlines and delivering the final product. Communication is key!
In this article, we've broken the tips into two groups – Office 365 and G Suite – as most businesses and organizations use one or the other. Make your IT department proud and use as much of the platform as possible to boost productivity (and maybe you can work from home more often)!!
G Suite
G Suite, formerly known as Google Apps for Business, is the collection of apps and services Google makes available to businesses – Gmail for Business, Groups, Sites, Hangouts, Shared Drive, and more. Take advantage of the apps and services included with your business subscription with some tips and tricks below.
Hangouts
If you've used any online conferencing or chat software – think Skype or Facetime – Google Hangouts is just that. Presenters can share their screen, specific windows on their desktop, and/or (yes, choose one, two, or all) webcam views. You can hand the presentation over to peers, mute/unmute participants, and even restrict access to your company, select users, or the public.
Use Hangouts for…
a sales pitch with public stream link
one-on-one meetings with team members
board/stakeholders meeting with private view links
Bonus: When you create a meeting invitation in Google Calendar (part of G Suite), a Hangouts link is automatically generated and sent along with your invitation. The link provides 1-click access to video conferencing from Windows, macOS, iOS, Android, and even an option for landlines.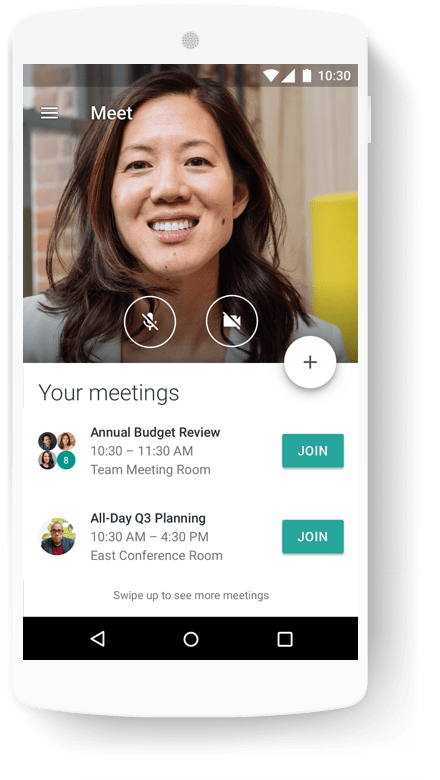 Drive Chat and Collaboration
If you use G Suite, you most likely take advantage of Drive to share files between colleagues and departments. But did you know that each "Drive" app – that's Docs, Slides, Sheets, and even Forms – has integrated chat? This is a perfect match to the already-included collaboration tool, allowing multiple users to edit a single file. Chats within Docs keep conversation tied to the project and will be less prone to the memes that sometimes accumulate in department-wide chats.
Use Drive's chat and collaboration tools to…
have conversations regarding specific projects
keep track of and assign tasks to different people
review team changes to documents with version history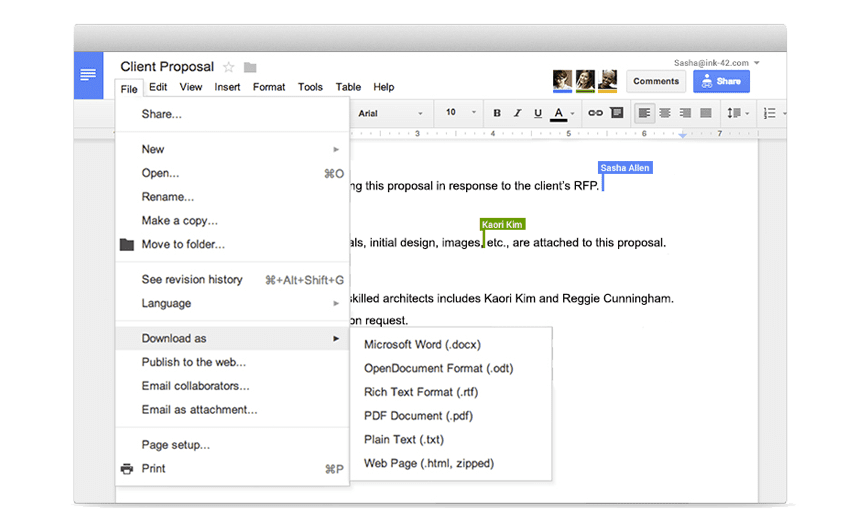 Jamboard
So how do you brainstorm when team members are scattered across the state? A virtual whiteboard of course! Jamboard is Google's collaborative whiteboard app included with G Suite. As expected, it allows all participants to view, edit, and interact with a shared whiteboard.
Use Jamboard for…
Brainstorming UI, designs, and/or project planning
Individual or group brain mapping
Organizing links to resources and external assets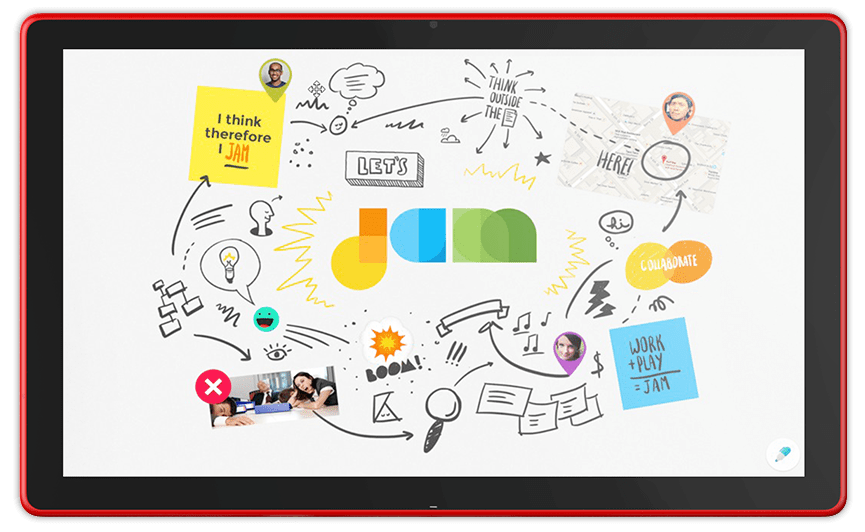 Are you a nonprofit without G Suite?
Get in touch with our team and we'll set you up with G Suite for Nonprofits – a free service that includes all of the apps and services that come with G Suite for Education. We'll say that again – free – for any number of users. Plus, we'll connect it to your website, CRM, databases, and more!

Click here to see other solutions for nonprofit organizations.
Office 365
Office 365, part of Microsoft's cloud services for business, includes familiar apps like Word, PowerPoint, and Excel, plus some cloud-powered collaboration tools like Whiteboard, OneNote, and SharePoint. Whether you're in the office or flying across the globe, Microsoft's apps and services have proven to be reliable when connecting team members and colleagues.
Microsoft Teams
Just like Google's Hangouts, you can include meeting links from right within Outlook's calendar, providing participants with 1-click access on mobile, desktop, and instructions to connect conference phones. Teams also has a public option, allowing you to open your "stream" to anyone with a link. Of course, you can also use Teams one-on-one, as a voice-only service, or just take advantage of its chat functions. The SharePoint file integration alone makes this worth it.
Pro Tip: If your organization allows it, you can even create channels for different projects and teams to keep conversations focused. Integrations with SharePoint and OneDrive are already enabled – just paste a link and Teams will automatically link to its cloud location and retain access permissions.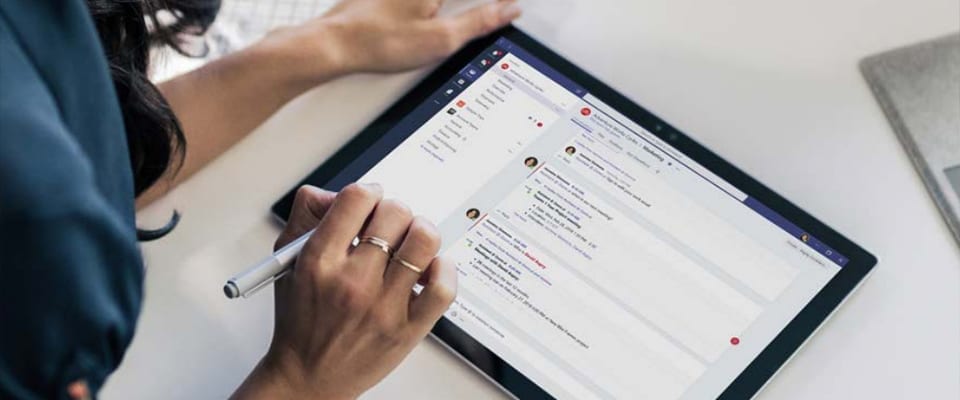 Microsoft makes Teams software free amid COVID-19 outbreak
Microsoft has made its Teams software available to use free of charge to individuals and businesses. There is a link to request a free temporary license (good for 3-9 months depending on use case) from this page.
OneNote
Creating a shared notebook allows all users with access to participate in the note-taking, discussion, and documentation of company policies, meeting reviews, guidelines, and how-to docs. The included chat and collaboration features allow all participants to take part, no matter where or what device they're on.
Use OneNote for…
Procedures and documentation for roles in the office
Project notes, files, and logs
Self-paced onboarding curriculum with the Class Notebook add-on
Plus, with Office 365, you can include SharePoint, OneDrive, and other cloud resources directly within the application.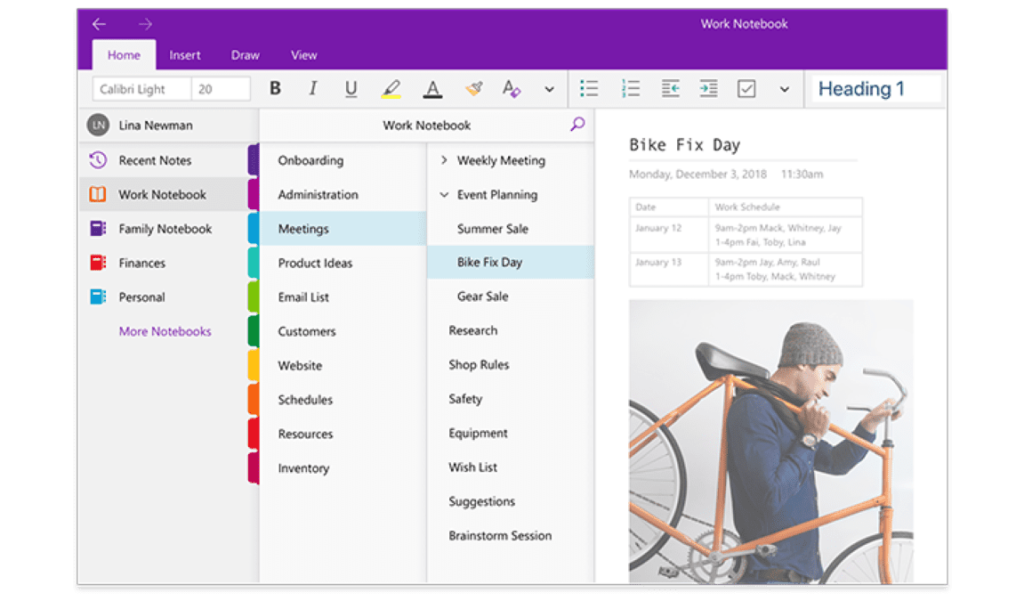 Delve and SharePoint
For those that confuse the two as much as we used to, SharePoint is very similar to OneDrive – a place to store your files – but SharePoint is company-wide and ideal for sharing and collaborating on files. SharePoint sharing is integrated almost everywhere you can find OneDrive. You might even be using it without realizing it!
Delve is sort of like the hub of SharePoint that Microsoft says is a "data visualization and discovery tool." On your Delve home page, you can get an overview of what people on your team are currently working on, see what files need attention, and even use it as a directory when trying to get in touch with someone from another department or team.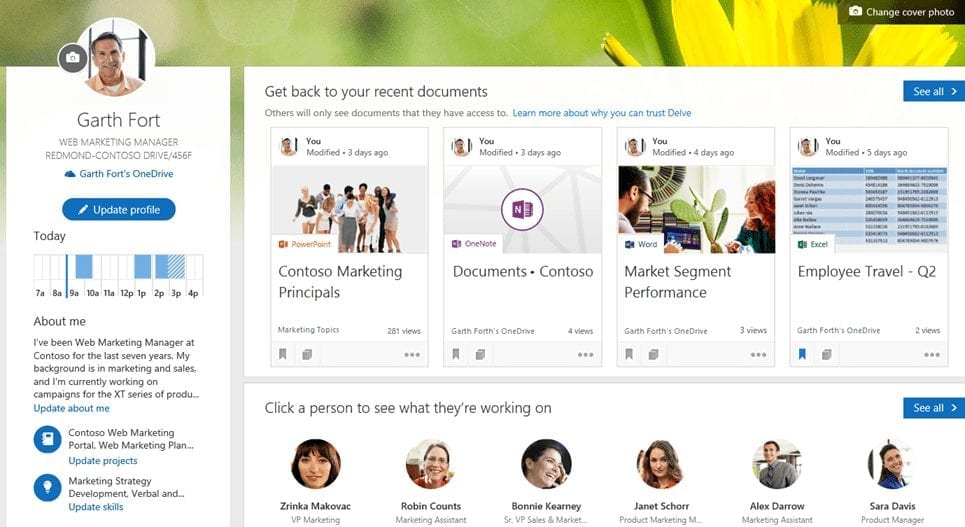 Don't have these tools?
You don't need to pay for G Suite or Office 365 to stay connected. Smaller organizations may be more familiar with tools like Slack, Evernote, and Jira. All of these offer free and paid tiers, with varying features accordingly. Ask your IT department or coordinator what software they may already have available for working together while remote.
If you'd like to add a G Suite or Office 365 subscription for your office, get in touch with our team and we'll help determine the best, most cost-effective product for your needs. Don't forget – registered nonprofits can get G Suite for FREE!! Reach out to use for more information or if you have any questions.
Microsoft makes Teams software free amid COVID-19 outbreak
Microsoft has made its Teams software available to use free of charge to individuals and businesses. There is a link to request a free temporary license (good for 3-9 months depending on use case) from this page.
Images included above depicting Google's G Suite and Microsoft's Office 365 SaaS solutions are property of their respective owners and are subject to copyright.